Learn how Solo PR Pro, a professional public relations organization, works with JL&Co to:

Solo PR Pro is a professional membership organization with approximately 9,000 community members in public relations, social media, communications and related fields.
The community is designed for the practitioner who is running their own independent shop or a small agency or for those who work in-house on a small brand team.
"You hire outside experts, and they might do the work, but not everyone is going to invest their time and attention into you and your company. With JL&Co, you're not just getting an expert partner — you're really getting someone who cares about your success."
-KAREN SWIM, PRESIDENT, SOLO PR PRO
Before JL&Co — In Karen Swim's Words
Solo PR Pro began as a blog in 2008 and over the years evolved into a full-fledged professional member organization. There have been periods where we were super disciplined [about content.] But over time, some people moved to new roles, and we were left with a small team, which meant the content responsibilities landed on me.
I had the capability to do it, but it kept falling to the wayside because I got too busy. We still produced content weekly, but it didn't always go out on time, or I'd scramble to write a last-minute blog post. This bothered me. I couldn't be as strategic as I wanted, which is important because the blog is like the front of our house — the part of us that everyone sees.
Fundamentally, I was failing to do what I counsel all of my clients to do: Be consistent with your content. I'm smart enough to know that when you need help, you should bring in experts.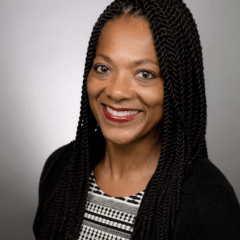 "Working with Jessica has really taken a huge burden off of my shoulders and freed up a lot of brain space and allowed me to think about other aspects of Solo PR Pro."
-KAREN SWIM, PRESIDENT, SOLO PR PRO
With JL&Co — In Karen Swim's Words
We increased engagement by consistently delivering valuable content to our members.
Jessica and her team have really taken on the role of helming our blog content strategy by:
Brainstorming content ideas.

Putting together our content calendar.

Interviewing industry experts for our blog posts.

Writing the content and crafting headlines, subheads, meta descriptions and more.

Developing new content series.

Refreshing existing content.
She does everything, so all I have to do is review and approve the post before it goes live. I think people who don't work with content don't understand there's a lot more than just writing a post. There are all these moving parts, so the work that JL&Co does is a huge lift. It makes us more streamlined.
Jessica also pitched the idea of a new series on our blog: Spotlight on a Solo PR Pro. She interviews a member of our community and writes up a profile full of insights for members. It's one of my favorite things that we do. Without Jessica, I would have never had the time to do this.
Overall, consistency is important in marketing, and because we're a community, we need to engage with them routinely. I've seen a lot of value-add from knowing that, no matter what's going on in my world, our members are not getting neglected, and we're delivering valuable content to them on a consistent basis. We've definitely seen a lot more engagement as a result.
We expertly revamped our email newsletter strategy.
Not only does JL&Co ensure we consistently send our twice-monthly email newsletter, Jessica has also completely redesigned and modernized the look of it. This is just one example of how she goes above and beyond to serve our members.
For the twice-monthly email newsletter, she comes up with the content, puts it all together, then all I have to do is write a personal note at the beginning. Jessica actually came up with the idea of the personal note and encouraged me to do it. As a result, I've received a lot of emails from members expressing gratitude for the insight and expertise I provide them. 
"Jessica is always thinking beyond just developing content. She's really thinking about the impact on our audience and is always seeking ways to improve it and make it better."
-KAREN SWIM, PRESIDENT, SOLO PR PRO
I've reclaimed at least 20 hours a month — and gained a true partner.
While we have the metrics to show how JL&Co has benefitted Solo PR Pro, she's also helped me free up time and space to think about the business.
Before, I felt like I was constantly carrying this boulder around on my shoulders, and I'd beat myself up — what's wrong with me? Why can't I get it together? I couldn't think clearly about our purpose or lean into our mission. But Jessica has taken all of that away.
I'd say she saves me at least 20 hours a month. Plus, there's this huge ripple effect. For example, I'd been planning to redesign our website for years, but I could never get it done. There were just too many other responsibilities. But because I can rely on JL&Co, I could finally dedicate my attention to it. In a relatively short period of time, we got it done. Jessica was also there along the way to offer feedback and suggestions for the copy and design.
Overall, I have a better quality of life because I'm not sitting up at 11 p.m. feeling guilty or stressed over yet another responsibility. That, to me, is worth everything. If I'm healthy and whole, our members are going to definitely get a better version of me and our brand.
Quick Questions With Karen Swim
Any business that has content.
She has such a positive, upbeat, can-do attitude. This is invaluable. If she sees something that can be improved, she asks. If she has an idea, she pitches it. That's my love language in business. I love people who are thinking and who care.
It would be a hot mess. It would be back to what it was — me putting out a newsletter and maybe successfully getting it out once a month and publishing haphazard blog posts. It would not be as organized or thoughtful. Our members are definitely benefiting from Jessica helping us with content.
OK, two words: Wonderfully effective.
Let's turn your business' content strategy into a successful case study! If you're a business owner or marketing lead who could use a hand with content, let's chat!