Ladies and gentleman, I'm an engaged woman!
On Saturday, September 14, my love Tim proposed to me after three years of dating.
Many of you have been reading this blog since I started it way back in 2012. You've been with me through the ups and the downs, so it only felt natural to share the story of how he asked with you.
The day of
Saturday began like any other normal weekend. We slept in a bit and finally got out of bed hungry and in search of caffeine.
Like many other weekend mornings, Tim took care of the Dunkin' run and I popped into Acme for bagels and breakfast supplies.
We arrived home at the exact same time. (Later, Tim told me he was hoping I'd get home after him because he was hiding the ring in his car and wanted to bring it into the apartment.) We enjoyed breakfast, showered and got ready to start the day.
We didn't have anything planned until later in the evening — Tim's birthday was last week, so I had marked our calendar that night to take him out for a nice dinner.
Little did I know that when Tim saw the plan on the calendar, he knew this would be the perfect time to catch me off guard. I certainly wasn't expecting a proposal on the day I set out to celebrate him. He got me good!
Tim was in charge of selecting a dinner spot, and let me know he made a reservation at Urban Farmer at 7 p.m. He suggested we leave a bit early around 4 p.m. and hit up a pub in Fairmount before dinner. I remember thinking it was a little weird that he wanted to get to the pub so early, but I let it go.
We didn't have any plans for the day, so we decided to take a walk up the hill to a record store in Chestnut Hill where Tim had a gift card. We worked our way down the hill popping into a few shops, and eventually decided to kill an hour before we needed to come home and get ready at a local bar to watch the Temple football game.
We came home around 3 p.m. and I started getting ready for dinner. I had already showered, so I didn't have much to do to get ready besides getting dressed and makeup, so I laid in bed browsing on my phone for a bit. Tim came into the bedroom a few times wondering why I wasn't ready yet, and when I was going to start moving. I was curious why he was so interested in when I was going to get ready.
(Turns out, now the ring was in his dresser drawer and he needed me to leave the room so he could grab it while I wasn't looking!)
I finally got ready, and right around 4 p.m. Tim called an Uber to take us to Fairmount.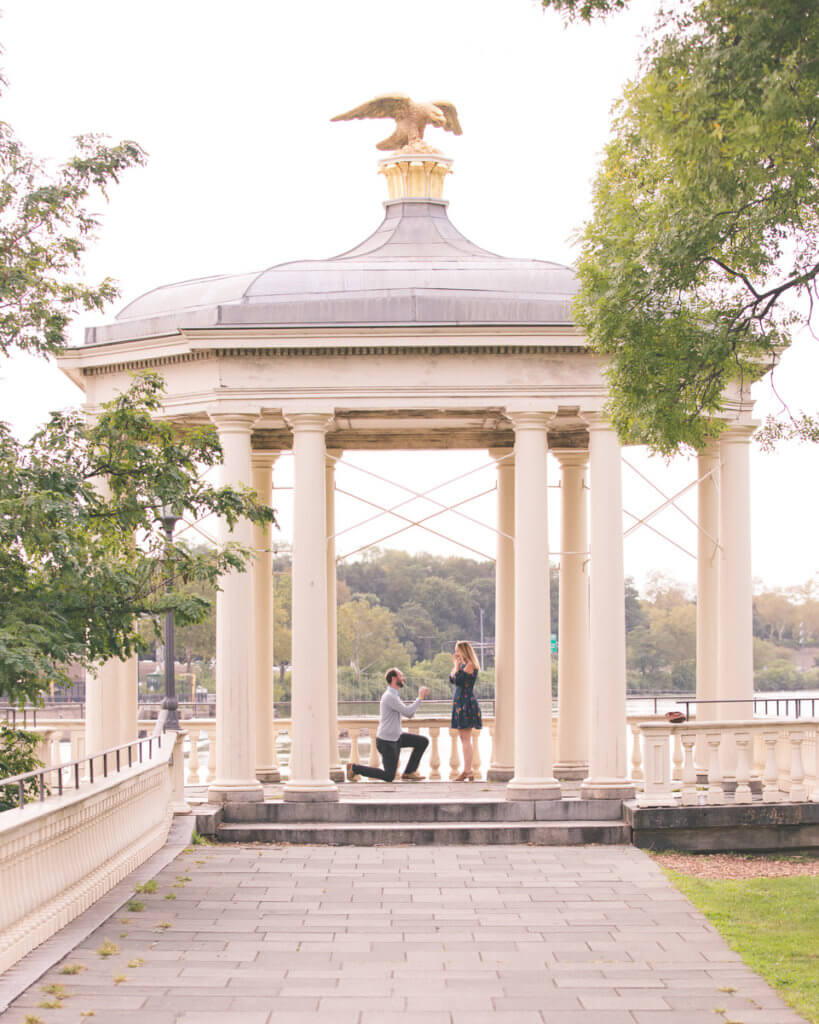 How he asked
As I stepped in the Uber, I noticed something odd on the driver's phone. I saw our final destination said "Water Works" and not the name of the pub we had planned to visit.
I said to Tim, "That's not the pub's address."
Oops! Tim didn't count on me being nosy and looking at the driver's phone (In my defense, hey, it was mounted where I could see it!) and told me he must have put in the wrong address and we could just walk to the pub from there.
Knowing the area pretty well, I said, "Water Works isn't really near the pub, why don't you just change the address in your phone?"
And then it hit me, OH!!!
I quickly shut my mouth about the directions, and started freaking out internally. Could this be it?!
After what felt like the longest ride ever from Chestnut Hill to the Art Museum area, we arrived at the Water Works.
The scene there was a bit crazy. It was 4:30 p.m. and it looked like they were setting up for a few different weddings that evening.
Tim led me to a gazebo overlooking the river.
There were people around, but not directly in the spot we were (minus a little girl on a Razor scooter criss-crossing the gazebo whose parents obviously didn't notice what was happening, lol). I could tell Tim was flustered by the little girl, but as soon as she moved out of the way, he turned me toward him and started talking.
He said so many sweet things — he had to refresh my memory later on about what he said because in that moment, I couldn't remember. He said he wanted to spend the rest of his life with me to which I squealed, "Me too!"
Then he got down on one knee and officially popped the question!
Obviously, I said yes! (Apparently I also screamed — don't remember that either!)
He slid the beautiful ring on my finger, and we celebrated for a bit.
Then, my good friend Brian James of Brian James Photo Studio popped out — Tim had hired him to capture our engagement!
From there, we did a mini-engagement shoot all around the Water Works and Art Museum area.
After the shoot, I said to Tim, "So wait! Do we have those dinner reservations?!" They never existed. Ha!
We headed back toward Chestnut Hill to meet both of our families at our favorite local bar, and a spot where we've made so many wonderful memories together. We celebrated the night away with the people we love the most.
I fell asleep that night with Tim's arms around me and a gorgeous new addition to my left hand.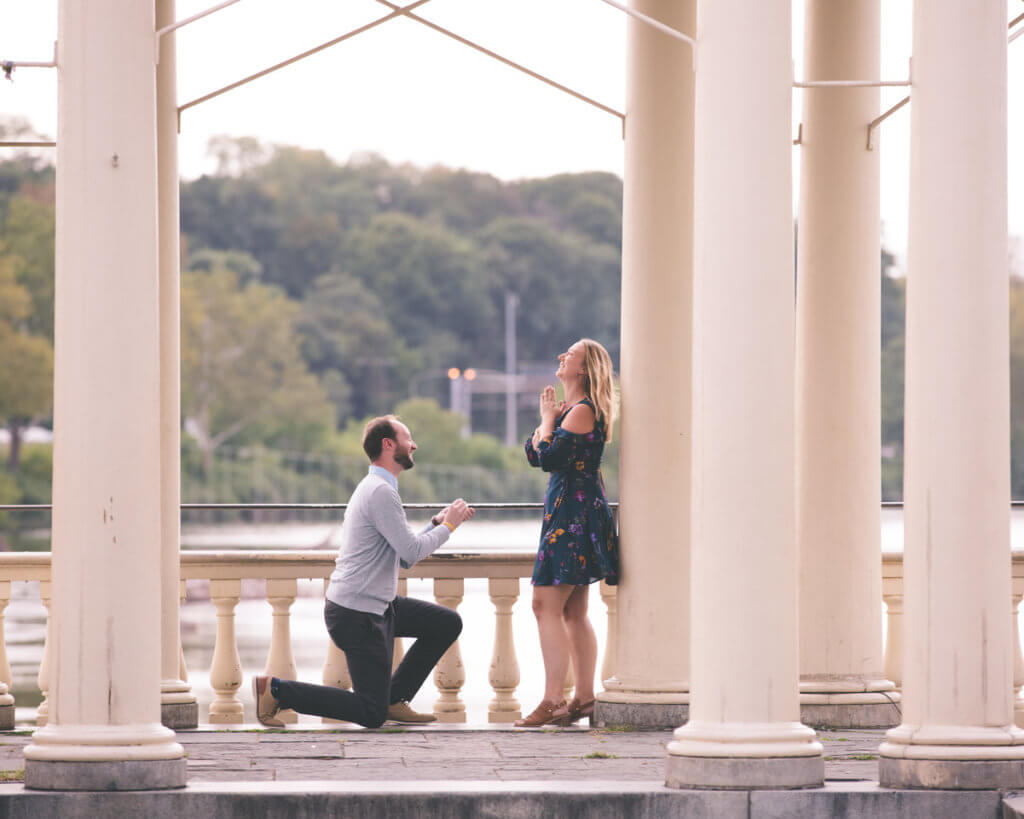 Some frequently asked questions
Did you have any idea?!
Up until the 30 minutes before the proposal when we got in the Uber, nope!
Of course, I knew it was coming sometime soon — we had discussed "warm weather months" so throughout the summer, I was always curious when it might happen. But like I said, I had planned to take Tim out for his birthday, so I figured it was the one night I could rule out.
In fact, I didn't even get my nails done last week! (I've been getting almost weekly manicures for the past few months in anticipation.)
He got me! He did so good — I truly didn't think he'd be able to surprise me, and he did.
Can I hear more about the ring?
You sure can! The ring is absolutely everything I dreamed of. It's exactly what Tim and I talked about for months as we did research together and separately.
The ring is from Brilliant Earth (highly recommend!). Brilliant Earth creates conflict free diamonds, meaning they are grown in a lab. They are still real diamonds! (A common misconception — and one I totally had before I started my research). Tim is a scientist and really believes in Brilliant Earth's mission.
The ring is a white gold and the diamond is a round, super ideal cut, E color, VVS2 clarity stone. I don't really know what all that means, but Tim does and he did GOOD.
The ring has a hidden halo, which was a unique feature we were both excited about. It's sort of difficult to explain, but the ring has a halo of diamonds underneath the main diamond — you can't see it looking at it straight-on, but can from other angles. They say "a hidden halo is for her", meaning it's something special I see every time I look at my hand, but it's not as obvious as a traditional halo.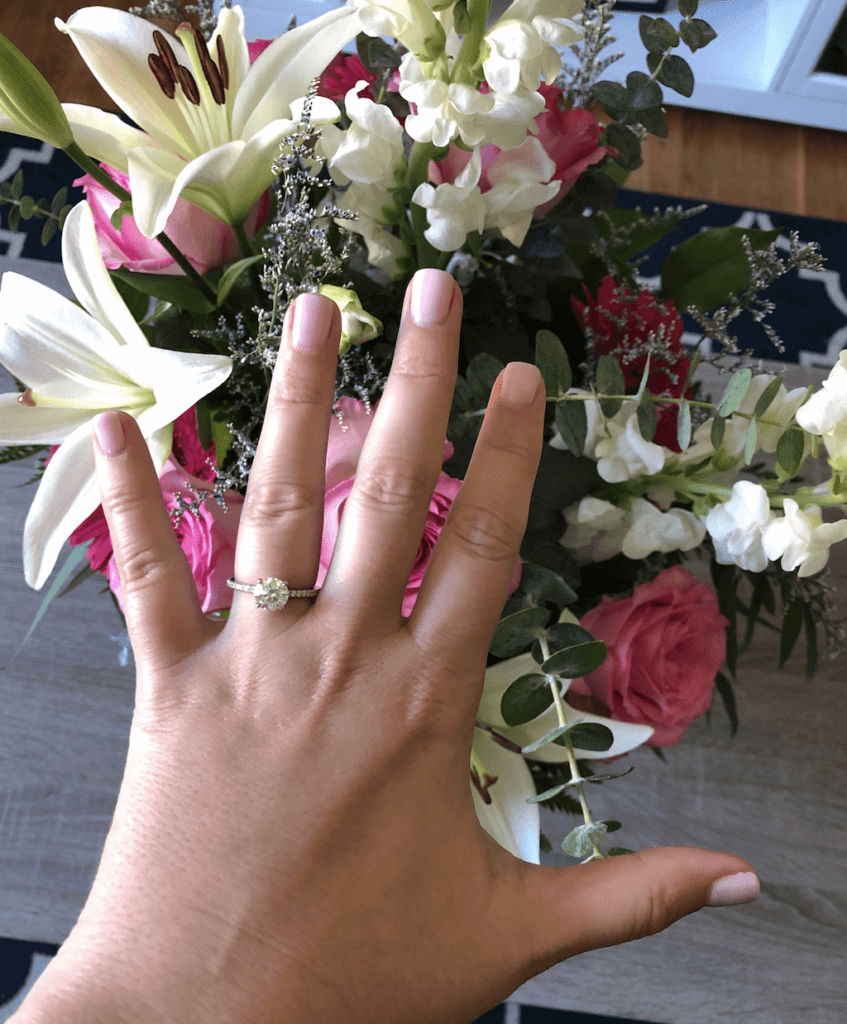 How did Tim know to hire a photographer?
Tim and I have talked about our engagement and what we'd want the proposal to look like for the past year or so.
We both agreed we wanted the moment to be private (i.e. no family or friends involved), but that we'd love nice photos as a keepsake. Tim had the idea to hire Brian. You may recognize his work, as he did all the photos you see of me on this very site!
Do you have a date set yet?
No! This question cracks me up because we started getting asked this question literally 24 hours after getting engaged.
No date set just yet, but we're aiming for fall 2020. I'd be happy with a wedding anytime between September and November. I know it will be tight to plan a wedding within a year, but we also are leaning toward a Friday evening wedding, so I hope that will open some venues and dates up for us.
What are you planning to do next?
This week has been a little overwhelming, so we haven't started planning yet.
Our first step is figuring out the guest list, so we have an accurate headcount for looking at venues. My goal is to keep the guest list somewhere between 125 and 150. Lucky for us, both of our parents are way ahead of the game, and already have their portion of the guest list complete!
After we have a guest count, we'll determine our budget and start researching venues. I know I have to move fairly quickly on the venue and date, and then I'll be able to slow down a bit as we select other vendors and continue planning.
Feeling lucky and loved
What a week!
I am truly feeling so lucky and loved, not only by my new fiancé (!), but by all the wonderful people in our lives who have celebrated with us.
From both sets of parents, to our siblings, to all of our friends, to so many people from different phases of our lives reaching out on social media, the response has been overwhelming!
All I know is I am so, so lucky — and so, so grateful.
And to Tim — thank you for making this moment so special. I love you so much, and absolutely cannot wait to spend the rest of our lives together.
Have any tips for wedding planning? I'm all ears! Leave your thoughts in the comments below.
Photos courtesy of Brian James Photo Studio, ring photo courtesy of me