What sort of image comes to mind when you picture a public relations (PR) professional?
Perhaps you envision a glamorous life, filled with high-profile events and parties or long days spent bopping from client meeting to client meeting in sky-high heels.
Unfortunately, most movies and TV shows get PR completely wrong.
Here's a more accurate image of a day in the life of a PR professional: head down, at a computer, tap-tap-tapping away at the keyboard.
Most people think because PR professionals work to attract the attention of the media that we aren't doing much writing ourselves, but that simply isn't true.
With nearly a decade of experience in the PR industry (Whoa, when did that happen?!), first at a hospital, then at a tourism bureau, and now as the founder and CEO of Jessica Lawlor & Company (JL&Co) working with clients, I know first-hand just how much time I spend each day writing.
Spoiler: It's a lot.
As I work with my clients, I find myself honing my own writing as I brush up on many of the basic (and not-so-basic) tenets of writing we often forget.
From figuring out how to get a journalist's attention with just an email subject line to adapting my writing voice and style for multiple clients, my training, background, and career in PR has certainly influenced — and improved — my writing.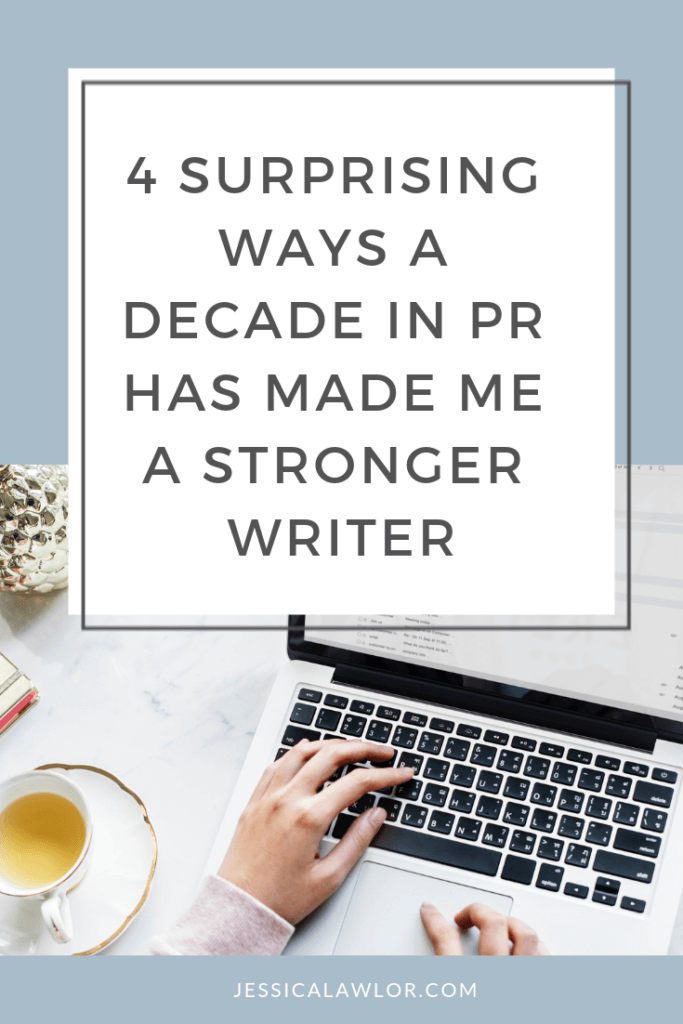 What do PR pros do?
In its simplest definition, PR is about telling stories to ensure a brand or individual's message is heard by the key audiences they most want to reach. Different from advertising or content marketing, PR professionals work directly with journalists, bloggers, and influencers to allow them to tell the story, giving the piece the all-important and impactful third-party endorsement.
The responsibilities of a PR professional vary widely. Here are some tasks you might find a PR professional chipping away at during the course of a work week:
Researching media outlets and individual journalists
Brainstorming creative story angles
Writing press releases
Crafting short and personalized email pitches for journalists
Coordinating media interviews
Drafting talking points for their company or client's spokespeople for interviews
Speechwriting
Following up with journalists about story ideas
Publishing content on social media
How my PR background has made me a better writer
It's no surprise then that PR pros first and foremost must be strong writers. Over the past 10 years in the field, I've discovered four distinct ways my PR expertise has made me a better writer.
1. My writing is more concise
Did you know? There are now more than six PR professionals for every one journalist.
This staggering statistic means that, more than ever, PR professionals must send journalists clear and concise pitches in order to get their message heard.
Case in point: Last year, my client Muck Rack released the results of its annual journalist survey. We wanted to get the attention of several industry-specific media outlets, and Forbes was at the top of our media list.
I crafted a short pitch to send to the journalist we identified at Forbes who might be interested in this type of story idea. Here's the pitch we sent:
Hi [Name of reporter redacted],
Muck Rack is getting ready to release the results of our 2017 journalist survey, and I wanted to check if you might be interested in an interview on some of its findings. Might make for an interesting trend piece about journalism and social media use.
[This was followed by a list of key statistics from the survey.]
As you can see, the pitch is extremely short — just about 200 words, and gets straight to the point. If a journalist were to express interest, then I'd send more information and details.
The point of a pitch is to get a journalist interested. Keeping pitches short and sweet can help a busy journalist scanning their overflowing inbox to know if they're interested much quicker.
Here's the good news: The journalist loved the pitch, and assigned it to a writer on his team. The story was published by Forbes — a major win for Muck Rack!
2. I know how to write a compelling headline
Ah, the elusive headline.
It's often one of the most challenging parts of any writing assignment: Crafting a creative headline that will entice people to actually read your piece and one that search engines will understand for search engine optimization purposes, too.
As difficult as it may be, writing headlines and subject lines that get people (specifically journalists) to take action is a major part of the job. After all, it's a PR pro's responsibility to get the attention of journalists who often receive hundreds of pitches each week.
One of the best ways to ensure a journalist actually opens your email? A creative and honest subject line.
Here are a few recent subject lines I wrote that yielded media results for clients:
Test your speed at the Mercer Museum: Interactive racing exhibit closing soon
5 former PA governors to participate in first-ever Governors' Panel at Pennsbury Manor
Is Twitter dead? Journalists say no in new Muck Rack survey
Did you know the Jaws of Life were invented in Bucks County?
You can see that these subject lines use various techniques to grab attention, including timeliness (closing soon!), uniqueness (the Jaws of Life were invented where?!), and prominence (five governors in one room is pretty impressive).
Here's my trick: I never write just one headline. In fact, thanks to editor Alexis Grant, whom I've had the pleasure of working with for many years, I write 10 to 15 headlines or subject lines for every article/pitch/email I write.
Why? Because the first headline you write is pretty much never going to be the strongest. As you write more and more headlines, words start to click in a different way, and you're often able to choose a much stronger end result than if you had gone with your first headline.
3. Adapting a new voice is a breeze
Writing is difficult enough, but on top of that add writing in someone else's voice. That takes the challenge to a whole new level.
PR professionals write in voices different than their own all the time. Whether a PR pro works in-house at a company or at an agency working with several clients, they have to adapt their writing accordingly.
As the communications coordinator at a hospital, I was tasked with writing letters and speeches from the company CEO on a daily basis. I'd often attend meetings and events he took part in to better understand his tone and expressions he used regularly.
Then, as the individual in charge of media relations and social media at a local tourism bureau, I adopted a more playful and fun voice to share travel tips and ideas.
Now, as a business owner juggling multiple clients at a time, I find myself switching between voices on an almost hourly basis. It's much easier now that I have this experience under my belt.
4. I'm a pro at sniffing out creative story angles
A successful PR pro thinks like a journalist. They're always seeking out new and exciting ideas within the companies they represent.
After all, with journalists receiving hundreds of pitches a week, you want your idea to stand out from the rest.
The key to finding the best angles? Dig deeper than the initial story idea. (P.S. This works for writers looking for creative ideas to pitch to editors too!)
For example, imagine you're the PR director of a museum celebrating its 100th anniversary and are tasked with getting the attention of the media. On its own, unfortunately, an anniversary isn't much of a news hook.
Instead, what if you pitched the story of the security guard who has worked at the museum for the last 35 years? Now, you've got a compelling human interest angle, a personal story, and an anniversary. That sounds like a smashing PR success in the making to me.
For every idea you come up with, see if you can take it one or two levels deeper. I promise your end result will be much more compelling than your original idea.
Can your job make you a better writer?
Whether you work in PR or not, I'm willing to bet there's some part of your job that can allow you to hone your writing skills.
Perhaps you can observe your surroundings a bit more, and pick up on the voices of the people you interact with on a daily basis. Maybe you can work on your own email subject lines, even if you're just messaging a co-worker. Or you can read your next piece of writing for clarity to see if you can make it even more concise.
There are small ways we can all improve our writing on a daily basis, no matter what career path we're on.
As for me, I'm looking forward to kicking off my next decade in the wonderful and wacky world of PR and I'm hoping I'll continue to improve my writing skills along the way.
A version of this post originally appeared on the Craft Your Content blog.