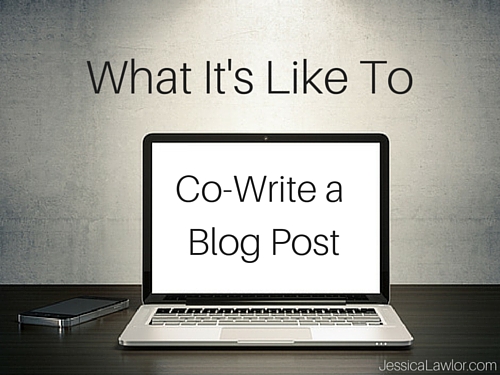 If you're a writer or a blogger, you likely know that writing can often be a solitary pursuit.
For years, I've written blog posts, essays, papers, journal entries and more…yet I've always written alone. And for the most part, I've been okay with that.
Until I realized just how rewarding it is to write something meaningful with someone else…and experience your words being published and sharing that exciting moment with another person.
Earlier this fall, my good friend Kelsie and I both went through something really crappy. New relationships- whirlwind relationships, to be more specific- came to screeching halts. Days apart. We spent a lot of time over the next few days discussing what had happened and dealing with our feelings around our similar situations.
Somehow in our conversations, we came up with the idea to write about what happened to us. And we decided that we wanted to get our writing published.
Here's what it's like to co-write a blog post with one of your good friends.
Step #1: Brainstorming. Before Kelsie and I ever sat down to write, we spent a ton of time discussing our post, why we wanted to write it and what we hoped would happen as a result of it. We both agreed that writing is therapeutic and would help us heal. We also were excited to share our story with others who may have experienced their own whirlwind romances. Both of us came to our first writing session with various ideas of what we wanted the post to convey.
Step #2: The Brain Dump. On a Sunday afternoon in October, Kelsie and I sat side by side on the couch, on separate laptops, typing away into the same Google Document. We started with a skeleton of a post- several different bullet points we knew we wanted to cover. We split those points between the two of us and got writing. We sat, in silence, except for the sound of our fingers clicking against our keyboards, for a good hour, brain dumping everything we had been holding inside onto the blank page. What we ended up with was around 2,000 words- our hearts poured onto the page. It was pretty magical seeing the document fill with words so quickly and powerfully.
Step #3: Step back and edit. After that initial brain dump, we agreed that I would take the lead on editing the post and making it more coherent, blending our two voices into one. But first, we took a short step back from the post. I let the post sit overnight and came back to it the following morning with fresh eyes. I spent the next two days editing the post. One thing that surprised me about this part of the process was how non-healing writing/editing about this experience was. I had hoped it would help me find a little peace, but instead re-living it through writing about it actually caused a little more hurt. However, I knew it was still important to share these words, and I hoped that by the time it was published, that would help me find healing. Kelsie jumped back in the document to edit, as well, and once we felt comfortable with the piece, we prepared to submit it to our publication of choice.
Step #4: Submit. Kelsie and I talked a lot about where we wanted this piece to be published. We debated if we should share it here on my blog, but decided we wanted the post to have an even greater reach. Elephant Journal, Thought Catalog and xoJane were among our top choices for submission, but we eventually landed on Elephant Journal because of their incredible content (especially in the Love & Relationships section). EJ also has a massive reach, with more than a million Facebook followers and thousands and thousands of subscribers. We wrote this piece with Elephant Journal's style and voice in mind. Finally, we submitted the post, filling out a form on EJ's website. Simple as that!
Step #5: Get rejected. Less than 24 hours later, we heard back from Elephant Journal- and the news wasn't good. Our post had been rejected. EJ was kind enough to send us some very specific feedback:
This was an enjoyable read, but I have a few suggestions for you that I'd love for you to take into consideration! First, we prefer articles to fall into the 800-1000 word range—readers stay interested and read to the end. I think you could easily trim this down by a few hundred words and still keep all the substance. Second, at elephant journal we strongly discourage the use of "you"-based articles in favor of an experience driven "I" or "we." Can you revise the items of your list to a more inclusive "we"? Lastly, I'd encourage you to bring some more specificity into your stories—the details will help to root this piece and make it unique, helping it to connect with your readers. 🙂
At first, we were both angry, especially me, being a professional writer. We ignored EJ's email for a few weeks, as we continued discussing what to do next. We talked about submitting the piece to other sites, but ultimately, we both came back to the desire to have this piece published by Elephant Journal. We decided to revise the post to meet their standards.
Step #6: Edit. Again. As it turns out, taking a few weeks away from the post gave us so much more clarity to edit the piece with fresh eyes. As I re-read our writing, I saw so much heartbreak and angst in the piece. I saw two girls, rambling, pouring their hearts out, without abandon. When I stepped back, I was able to look at the piece more objectively. We finally understood EJ's feedback…and we were ready to make the piece better. Don't get us wrong- we needed that first draft. We needed to get it all out there…and then we needed to reign it back in.
Step #7: Share with trusted writer friends. Writing isn't as solitary as we think. We can ALL benefit from editing and from the opinions of other trusted writers. I shared the piece with some of my very good writer friends (Thank you Sara, Sarah and Dana!) and was amazed by their changes and comments. When you write something, every single word seems so important and crucial. Having someone not familiar with the situation read the post and show us where we could cut words was so incredibly helpful. After taking all of the edits into consideration, Kelsie and I both took turns taking final reads of the piece and we hopefully submitted the post to EJ once again.
Step #8: Finally, some good news! Driving home from Kelsie's 30th birthday extravaganza in New York City, our conversation once again turned to our piece. It had been almost a week since we re-submitted the post and we hadn't heard anything from EJ. Kelsie asked if I thought we should submit it elsewhere. In that moment, as if by serendipity, my phone pinged with a new email:
Thank you for your submission to elephant journal! It's official: your words have somehow inspired our hearts and we're accepting your piece for publication.
Receiving that email together was a priceless moment. We screamed, celebrated and danced in the car. We cranked up the music and blasted Taylor Swift's Shake It Off. We became so distracted by our mini-celebration that we may have driven two exits past the one we were supposed to get off at….(oops!)
Persistence, people. It's a real thing. And victory tastes even sweeter when you have to work a little harder for it.
Step #9: GET PUBLISHED! A week later, we received an email that our post had gone live on EJ. I immediately forwarded the email to Kelsie and we sprung into action. What an honor to see our bylines, words and bios on EJ, a site both of us admire and read regularly.
Even though I was excited to have this piece published, I also felt nervous. The post is deeply personal and delves into a topic I normally don't detail on the blog. But in any case, I felt proud of our words and I was ready to make it public.
Step #10: Share your writing with the world. Posts that are read, commented on and shared within the first 24-48 hours of publishing tend to do better on Elephant Journal and reach more people who can benefit from this message, so we put together a mini promotion-plan. Both of shared the post on our various social media networks, I sent out a newsletter to the Get Gutsy community and we both emailed friends who we thought might benefit from our words. The promotion continues, and as of right now, our post has been viewed more than 3,000 times in less than a week! Pretty incredible.
The Published Piece
Oh…after all of this, you're probably wondering about the published piece, huh?
The post is called "From Swept Off Our Feet to Swiftly Single: 6 Lessons Learned From Whirlwind Romances."
You can check it out on Elephant Journal 🙂 I hope you enjoy it…and if you've ever experienced a whirlwind romance, I hope you find some comfort in our words.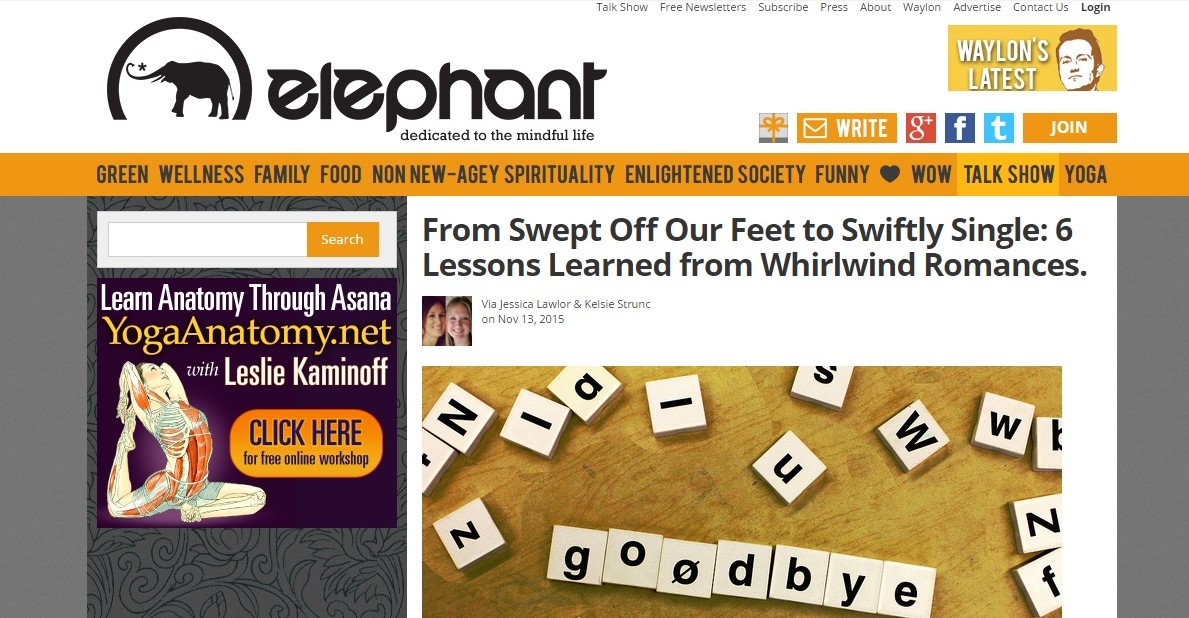 Have you ever co-written a blog post? I'd love to hear about the experience!
Want more gutsy content delivered straight to your inbox twice a month? Be sure to sign up for my FREE #GetGutsy e-newsletter filled with inspiration, ideas and action items to get out of your comfort zone. When you sign up, you'll also be sent a FREE copy of the Get Gutsy ebook, filled with 19 inspirational stories to help you get gutsy.