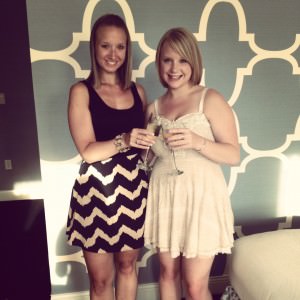 Start your week right! Every Sunday I post my favorite links from around the web and share my goals for the upcoming week.
Links
On Email Marketing:
Why You Should Care About Gmail's New Tabs as a Blogger, Marketer, Freelancer and a User: I always rely on Kristi Hines from Kikolani for my updates about important issues for bloggers and this post came at just the right time. Gmail recently changed the way they showcase their inboxes to users and as a blogger or email marketer, this issue affects YOU. Find out how.
On Writing:
The Write Life: Did you hear? Alexis Grant and her fabulous team launched a new website for writers this week! It's called The Write Life and the blog is already filled with amazing content from their incredible launch team. On Alexis' blog, go behind-the-scenes and learn how the launch came together.
On Entrepreneurship:
Worst Case Scenarios Are A GIFT: The sassy Ash Ambirge from The Middle Finger Project hits the nail on the head with this post about not fearing risk and instead embracing it to help your business grow.
On Life:
The Fear of Missing Out (FOMO): After I wrote a post about FOMO a couple of weeks ago, Dana Sitar from Between Two Towns penned her own (extremely eloquent) thoughts on the much-discussed topic.
How To Make Friends After College: As I wrote about before in a post for Brazen Careerist, making friends after college is not easy. That's why I was so excited when I saw that Ashley from Your Super Awesome Life recorded this great video with four tips to do just that.
This Week on JessicaLawlor.com:
21 Definitions of What It Means To Be A Sister: This week, my little sister turned 21 and I wrote a special blog post about what I think it means to be a sister. Happy birthday, Jamie!
Goals
Get back on track with my workout schedule. Last week was all about celebrating my sister and this week, I need to get back into my regular eat healthy/work out often routine. 

Research local yoga classes. I've recently got back into yoga and want to see what kind of inexpensive yoga options are around my area. I've already found an awesome class for $5 at my local Whole Foods.
Start my term as PPRA's Vice President of Communications off strong- we have our first committee meeting this week and a board retreat. Ready to take on a new challenge!
Have any links or goals you'd like to share? Leave them in the comments!
Want exclusive content NOT featured on the blog delivered straight to your inbox twice a month? Be sure to sign up for my FREE #Get Gutsy e-newsletter filled with inspiration, ideas and action items to get out of your comfort zone.