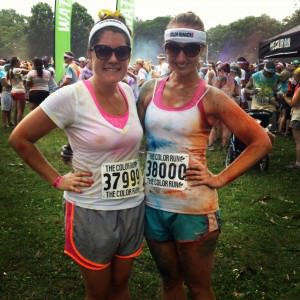 Start your week right! Every Sunday I post my favorite links from around the web and share my goals for the upcoming week.
Links
On Blogging:
Bad Traffic: How to Get 9,229 Useless Visitors Every Month: It's all about QUALITY, not quantity, says Ramsay, also known as the Blog Tyrant. He shares an example of a popular post that went viral, but brought bad traffic, meaning mostly bounces and not enough email signups and all the other things you want when you write an awesome post.
How to Be a Good Guest Blogger: Really smart tips in this post by Cristina Roman about how to be a good guest blogger. I especially love the tip about drafting your post on your own blog first and then copy and pasting the HTML to send to the blogger hosting you for easy formatting.
On Writing:
All Killer, No Filler: 6 Simple Tips for Concise Writing: Clean writing is key and Sophie Lizard from Be a Freelance Blogger shares easy tips to make your writing more concise.
On Public Relations:
Paula Deen: A Lesson in Crisis Communications: I can always count on Gini Dietrich to provide the best and most useful perspective on any PR crisis and her post on Paula Deen's situation does not disappoint. My favorite tip from this post is "tell your story before someone else does." SO smart.
On Social Media:
We Hide Behind 140 Characters: Similar to my post about FOMO this week, the talented Sara Brink writes about living life through a screen and "curating" a life online that appears to be better than what it really might be.
On Careers:
Working Absurd Hours is Not a Badge of Honor: YES. This post is too true. Adam Singer, Google employee and author of the blog, The Future Buzz, explains that working hard at your job does not necessarily mean working 60 hours a week.
This Week on JessicaLawlor.com:
Getting Over Fear of Missing Out (FOMO) In Person and Online: FOMO is a very real thing and I tackle the topic in this post. Be sure to check out the comments- lots of good (and differing) opinions about FOMO.
Goals
 This week is all about my sister, Jamie! She's turning 21 on Tuesday and we have quite a week of birthday festivities planned. I planned an epic night out on Thursday and have some surprises up my sleeve. Happy birthday, Jamie!
Fit in workouts, despite this being an extremely busy week. I went to a yoga class for the first time in two years this week and I'd love to search out some more classes in the area.
Have any links or goals you'd like to share? Leave them in the comments!
Want exclusive content NOT featured on the blog delivered straight to your inbox twice a month? Be sure to sign up for my FREE #Get Gutsy e-newsletter filled with inspiration, ideas and action items to get out of your comfort zone.