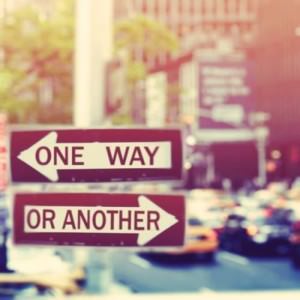 Do you ever struggle with making big decisions? Or even little decisions? Believe me, you're not alone.
I'm a classic over-thinker, so when it comes time to make a big decision, I often freeze.
When I was little, my mom passed on a piece of advice that has quickly become a favorite bit of wisdom that I take to heart every day:
She always told me, "Just sleep on it."
You see, there's power in pausing and taking a break when making big decisions.
Here's an example: Prior to launching this blog and e-newsletter, I ran a book review blog for three years. When I started the blog, I absolutely loved it. But as time went by and my interests changed, I realized I was no longer passionate about the direction of the blog and needed to make a change. Still, I wasn't quite sure what exactly I wanted to do yet.
Instead of making a hasty decision in the heat of my disinterest, I took an eight-month break. Every once in awhile, when inspiration struck, I'd pop in with a post or two, but for the most part, my website collected dust and went quiet.
During that time, I discovered what it was that I truly wanted to do. After a lot of soul-searching and MANY nights of "sleeping on it" my next steps slowly came into focus and I began to pursue a project (building this blog and community!) that excites me every day.
The important thing to note here is that I didn't give up or quit. I also didn't make a hasty decision that I would later regret.
What this period of time taught me is that there is absolutely nothing wrong with pausing and taking a break. Of course, we don't all have the luxury of endless time when making a big decision, but "sleeping on it" even just for one night makes things much clearer.
Here are six other ideas for making big decisions:
1. Pause. First, recognize that you have a difficult decision to make. Respect its importance and promise yourself that you won't make a hasty decision. If someone is waiting for your decision, let them know that you need time to think about it. If the decision is more internal, allow yourself the time to pause.
2. Reflect. Here's the hard part: Reflection isn't always a quick or painless process. In my case, it took eight long months for me to come to a conclusion. Like I mentioned before, you won't always have the gift of time on your side when making a decision, but I recommend taking at least 24 hours to reflect. Also remember, reflection looks different for everyone; for some it may be going for a run and for others it may be taking a nap or writing out a list of pros and cons.
3. Seek guidance. Ask trusted friends and mentors for their advice. Ultimately, you make the final call, but talking with others often allows you to see all sides of a decision from a fresh perspective. It's even better when you can talk to someone who isn't intimately familiar with the situation you may be in; their distance from an issue gives them an entirely new outlook that you may fail to see.
4. Commit. After a certain period of time, you need to actually make the decision. And when you do, commit to it whole-heartedly. I know; this is way easier said than done.
5. Move forward. Once the decision is made, try hard not to overthink or dwell on it. Be confident in your decision and move forward.
6. Reevaluate. Inevitably, we're human and sometimes we make the wrong decision or aren't thrilled with the outcome. That's okay, too. This just means it's time to reevaluate. Many decisions can be undone or adjusted so take the time to look at where things may have gone wrong and see if it's something that's able to be tweaked or fixed.
How do you deal with making big decisions? Share your tips and tricks in the comments below.
Want exclusive content NOT featured on the blog delivered straight to your inbox twice a month? Be sure to sign up for my FREE #Get Gutsy e-newsletter filled with inspiration, ideas and action items to get out of your comfort zone.