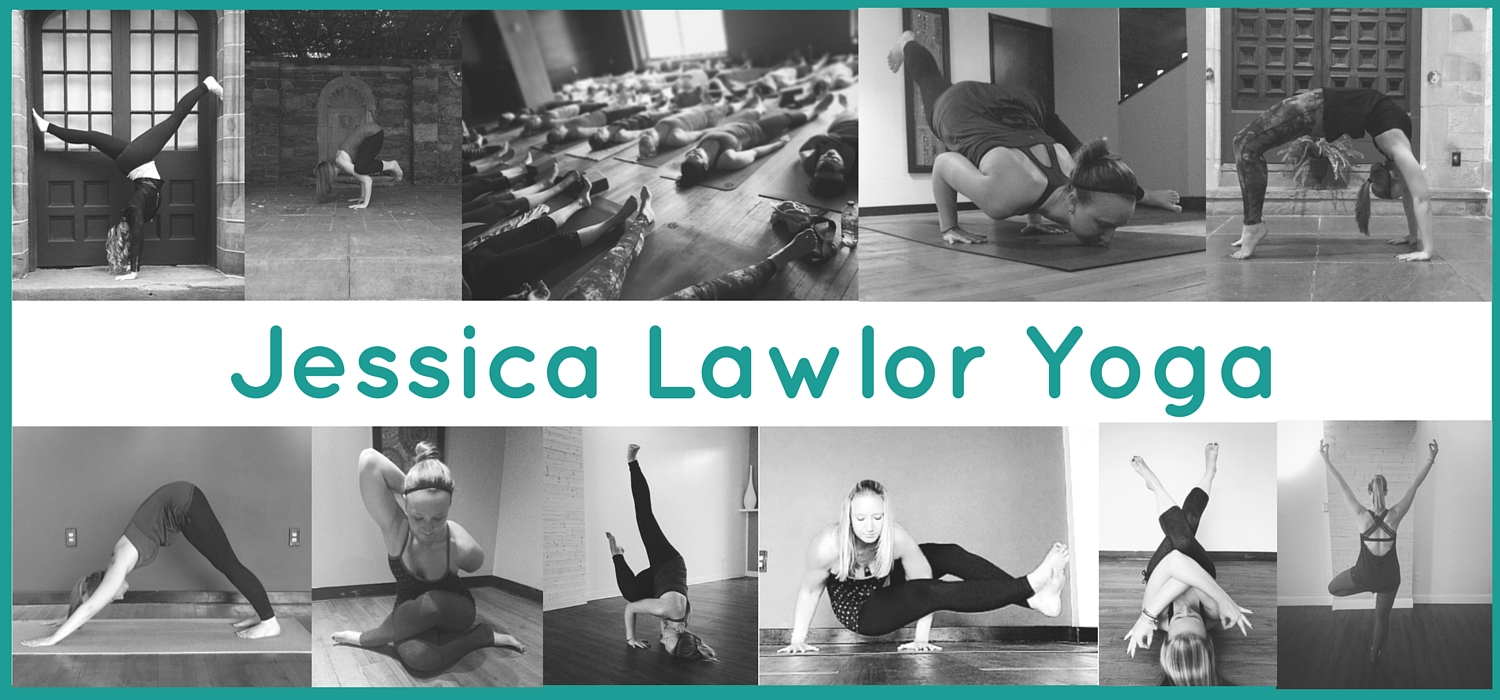 "Practice and all is coming." -Sri K Patthabi Jois
My name is Jessica Lawlor and I am a yoga teacher in the Philadelphia area.
My Yoga Story
Three years ago, if you had told me I'd practice yoga regularly and teach yoga, I'd have said you were crazy. As a runner, I mistakenly thought yoga was easy. I thought it was just for stretching. I thought it would be a waste of my time and I wanted to do a "real workout."
Boy, was I wrong.
When a close friend invited me to join her for an outdoor yoga class, I reluctantly purchased a mat and went to class. Surprisingly, I enjoyed it. After that initial class, I dabbled with other outdoor classes and classes at my local Whole Foods, but had yet to step foot in a studio.
A month or so later, that same friend dragged me with her to my first hot vinyasa class at Dana Hot Yoga. As soon as I stepped into the studio, I felt at home. At peace.
One class in and I was absolutely hooked.
I found my passion.
And my life was forever changed.
Yoga has made me more strong and balanced. It has taught me a new way of looking at the world…and at my own life.
It has energized me, humbled me and reminded me that truly anything is possible with patience, practice and confidence.
Becoming a Yoga Teacher
I enrolled in teacher training and completed my 200 hour certification with Dana Hot Yoga under the guidance of Lisa Mitchell and Rachel Hoppenstein in June 2015. (I blogged about my yoga teacher training experience in its entirety here)
After completing teacher training, I began teaching weekly classes at Dana Hot Yoga, as well as substituting at studios all over the Philadelphia area.
Teaching yoga is a true gift. Now I am honored to share my love and passion for yoga with others.
What You Can Expect From My Classes
A balanced, upbeat and challenging vinyasa flow designed to stretch and strengthen the body.
A safe and accessible practice for all levels from a complete beginner to an advanced yogi.
A friendly, fun and welcoming atmosphere and class.
Inspiration! My classes always open with a quote or theme to make you think, reflect and allow you set an intention to carry you through practice and beyond.
Read on to learn more about how we can practice together, upcoming events/workshops, testimonials from my students and other yoga-related blog posts.
Namaste,
Jessica

Join me on your mat! I teach several weekly classes and substitute at studios all over the Philadelphia area.
Tuesday:
9:30 a.m. Rebel (Chestnut Hill)- all levels hot vinyasa
5:45 p.m. Dana Hot Yoga (Spring House studio)- all levels hot vinyasa
Wednesday:
9:30 a.m. Dana Hot Yoga (Glenside studio)- all levels hot vinyasa
Friday:
9:30 a.m. Rebel (Chestnut Hill)- all levels hot vinyasa
Saturday
9:30 a.m. Dana Hot Yoga (Spring House studio)- all levels hot vinyasa
For my full up-to-date schedule, including when I'm teaching workshops or subbing, view my Google calendar.

Stay tuned for upcoming events!

Here's what some of my wonderful students have to say about my yoga classes.
"As someone who has little yoga experience, walking into a class can certainly be intimidating. Jessica immediately made me feel welcome in her class; the environment was relaxing and friendly. She caters to all levels in her classes by both explaining how to make a pose more challenging or by providing alternative poses. Jessica is approachable and willing to give constructive feedback on how to improve yoga practices or conquer new challenges. I have thoroughly enjoy her classes and have applied the themes she discusses in class to other areas of my life." -Leah B.
"Jessica brings good vibes and enthusiasm to every yoga class she teaches. She's very passionate about spreading her love of yoga to others and I always leave class feeling more confident. She embraces positivity and makes it a priority to get to know her students." -Mel M.
"Jessica's classes are mindfully sequenced and often focused on opening up the body for a specific pose. Her opening quotes and reflections are well thought out. I don't know how to describe it exactly, but Jessica's voice is perfect for yoga!" -Kelsie S.
"I don't know how long Jessica has been teaching, but it seems like she's been doing it for a long time because she's extremely confident in her instruction and her sequences are well put together and flow naturally. Jessica's teaching style is accommodating to all levels of yoga and she always encourages each student to explore their own practice. I love that Jessica is constantly switching up her flow, so every class I've gone to is different." -Bryce A.
"Jessica's classes are the perfect balance of challenging and relaxing. Whether you're someone just starting out in the practice or a seasoned yogi, Jessica's classes offer the opportunity to try new things while still listening to your body and knowing your abilities. Her class themes help me to focus my energy inward and grow as both a yoga student and a person." -Rachel L.
"Jessica's class is both upbeat and physically demanding. She always brings good quotes and themes to class." -Paul R.

Interested in learning yoga one-on-one?
Taking private yoga lessons is a wonderful way to introduce yourself to the practice or to advance and deepen your current yoga practice through personalized instruction.
I am available for private and semi-private instruction in one-hour or ninety-minute sessions. Private sessions can be held in home or in studio. Props and mats can be provided as needed.
If you are interested in booking a private yoga session, please contact me.

In addition to teaching yoga, I am a communications consultant and founder of the Get Gutsy blog. I often draw inspiration for my teaching through my writing. I regularly write about yoga and blogged about my yoga teacher training experience.
Here are some of my most popular yoga-related blog posts.
Teaching Yoga:
I Taught My First Yoga Class // 25 Lessons From Teaching My First 25 Yoga Classes // One Year of Teaching Yoga: Milestones, Gifts, Lessons and Gratitude
Yoga Teacher Training:
Before teacher training began // Weekend 1 // Weekend 2 // Weekend 3 // Weekend 4 //Weekend 5 // Weekend 6 // Weekends 7 & 8 // Life After Teacher Training
Practicing Yoga and Yoga Inspiration:
100 Lessons From 100 Yoga Classes // The Truth About Social Media and Yoga // I Meditated For 50 Days Straight. Here's What Happened // Welcome The Present Moment As If You Had Invited It // What Makes Your Eyes Light Up?

With a public relations background, I blend my passion for yoga and my communications expertise by working with yoga teachers, studios and other wellness-related businesses to develop their unique voices and brands online.
Learn more about my communications consulting services and reach out if you'd like to chat further.
Hear what some of my clients have to say:
"Jessica's expertise, creativity, passion, and kind spirit has infused my business with incredible vibrance and new direction. Before working with Jessica, I was intimidated by social media and blogging. With her gentle yet professional guidance, I have become more confident. She has helped me grow my blog and increase my presence on social media, and my list has doubled. Jessica's brilliance has given me the tools I need to reach more people and do the work that is so important to me. I trust Jessica like no other when it comes to blogging, social media, and growing my audience."–Jennifer Kreatsoulas, Founder, Chime Yoga Mentor
"Jessica has completely changed the way I think about how I manage my business. She has helped me to create a blog, newsletter and social media campaign, and gives me constant advice on how to continue to maintain these aspects of my business. Without her guidance, I know that my brand would not be what it is today. Her intelligence continues to help me make my brand better on a daily basis."–Julia Paddison, Founder, Julia Paddison Yoga
Want to stay in the loop with the Get Gutsy blog and yoga happenings? Be sure to sign up for my FREE #GetGutsy e-newsletter filled with inspiration, ideas and action items to get out of your comfort zone, sent straight to your inbox twice a month.