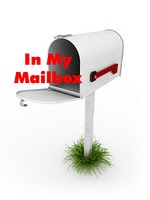 In My Mailbox, started by Kristi from The Story Siren is an awesome weekly meme to post what books we've received this week; whether it was sent for review by a publisher, purchased at a book store, borrowed from the library, or won from a giveaway.
What a FAB week! I'm off to an awesome start with reading in 2011 (four so far!), and luckily, I've loved every book I've read. Can't wait to see what the rest of the year brings!
On Thursday, I got TWO envelopes in my mailbox. I always get super excited when I have mail, but two in a day is extra awesome. Read on to see what I got!
From my lovely friend Meg: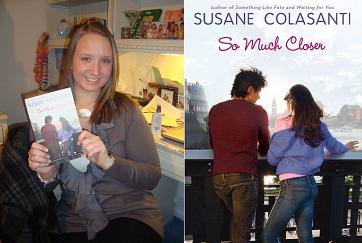 So Much Closer by Susane Colasanti: Oh my goodness- Meg knows what a huge Colasanti fan I am, so she surprised me and sent me her ARC of Colasanti's latest which is due out May 3.  I was SO excited when I saw this in the mail (hence the fact that I HAD to take a picture with the book) with the sweetest note from Meg. Thanks again, doll! Just another reason to love the people in this amazing book blogging community.
Hollywood Ending by Lucie Simone: When Lauren let me know I won this giveaway, I was already super excited but I had NO idea it would be signed and personalized by the author! Can't wait to read this one; how cute is the title?
From Netgalley:
Plan B by Charnan Simon: When I saw this one on NetGalley, I was immediately intrigued. Books that deal with teen pregnancy and tough issues fascinate me. I always like to see how authors approach touchy subjects, so I know this one will definitely be an interesting read.
What's in your mailbox today?