Looking to take your business or product to the next level? Check out my freelance services below.
Public Relations
There's nothing more satisfying to me than brainstorming, crafting the perfect pitch to communicate a strategic message and seeing results. After graduating from Temple University with a degree in strategic and organizational communication, I enjoyed a position in healthcare communications, and now work in travel/tourism PR. In addition to my full-time job and freelance work, I hold board positions with two area public relations professional associations.
Strategic campaign planning
Competitive analysis
Research
Developing media materials including press releases, media alerts, media kits and personalized, strategic pitch letters
Media outreach
Blogging relations- building relationships with key bloggers in your market
Branding
Social Media
Social media has forever changed the way people consume information and communicate with brands and one another. It can definitely be overwhelming. With so many sites out there, which one is right for you? After using social media personally for nearly four years and for public relations associations and brands for two, I can help you cut through the noise to figure out where you should be focusing your efforts.
Research
Social media consulting for a variety of social media sites including: Facebook, Twitter, Pinterest, LinkedIn, Foodspotting and Instagram
Strategic consulting for developing a successful blog
Content Development
It's all about content. Need clean, creative and concise copy to communicate your message? Between writing day in and out at my full-time job and honing my freelance writing skills on the side, I have experience writing for a variety of different industries.
Blog content
Website content
Contributor posts
Ghost blogging
Speechwriting
Public Speaking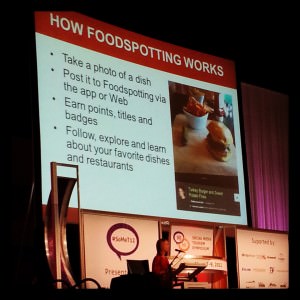 I LOVE speaking to small or large groups about a variety of topics around public relations, social media, personal branding and careers.
In November, I spoke about the social media site, Foodspotting, at the Social Media Tourism Symposium in El Paso, Texas to a room of more than 100 other social media professionals.
I've also spoken to several public relations classes at Temple University and Villanova University, for Public Relations Student Society of America (PRSSA) chapters at the University of Delaware and Temple University, along with various Philadelphia Public Relations Association (PPRA) events.
Below are a few ideas of topics I speak about:
Ways to Set Yourself Apart as a Student
Personal Branding for College Students
Using Social Media to Drive Results
Blogging 101
Still not convinced?
Check out what others have said about working with me:
"Jessica is one of our top bloggers for Brazen Life, Brazen Careerist's blog. She consistently writes smart, creative posts about careers and job search, and her copy is always clean. Best of all, she's managed to nail the Brazen voice, writing in a personable and hip yet authoritative style. She meets deadlines and is great to work with. I'd hire her in a second."

-Alexis Grant, entrepreneurial writer, digital strategist, managing editor of Brazen Life
"After working with Jessica on PPRA's Communications Committee last year, I quickly learned that she is a proactive PR professional who is very savvy with social media and is good at getting things accomplished. Her skill sets and organization served as tremendous assets to the team."

-Meredith Avakian-Hardaway, public affairs specialist, poet

"Jessica is one of  those women who you constantly wonder "how does she do all that!?" Not only is she an accomplished PR pro by day, but her continual accomplishments with running, writing, and being the best version of herself is nothing less than inspirational and motivating."

-Sarah Stackhouse, blogger at How Goes The Struggle
Check out this case study outlining how I helped debut author Kristin Walker with public relations/social media support for her book launch.
Ready to get started? Just reach out.