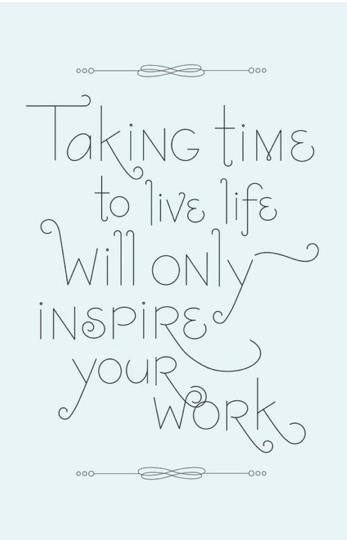 I have a good friend named Melissa. We've known each other for 22 years and I really admire her because she is always open to new experiences.
Melissa rarely says no to invitations, whether I'm asking her to join me for a 5K at 10 p.m. the night before an early-morning race or inviting her to attend a black tie award ceremony with just days notice (both of those things happened this summer).
She takes advantage of every opportunity that comes her way. It's clear that she genuinely loves her life. What an awesome way to live!
I'm learning from Melissa.
Because, see, in the past, I've gotten so caught up in my work-the numerous freelance articles I have on my plate, a long list of blog improvements, not to mention my day job, of course-that I've said no to many fun opportunities, under the guise of "being too busy."
I've spent many a Friday night or Sunday afternoon at home, unwinding from a crazy week or catching up on my to-do list. I've missed out on exciting new experiences with friends, and that's definitely not a fun feeling.
There's nothing wrong with sacrificing fun time, for the sake of your goals and dreams. Don't get me wrong;I believe in the hustle just as much as any go-getter out there.
But I also recognize the importance of balance.
And after the life-changing summer of 2013, I'm finally learning the importance of working hard AND LIVING hard.
What's the point of working hard if you can't take the time to enjoy your success? Here's what I've learned recently:
Not only is spending time out and about with friends creating new experiences good for my heart, mind and soul, it's also good for my career, blog and business.
I'll let you in on a little secret: every new experience is a new opportunity to be inspired. When I get out from behind my computer and live my life, I come back to my work with new content to draw inspiration and ideas from.
The next time a friend invites you to do something fun and your mile-long to-do list pops into your head, say yes anyway.
Get out there and actually live life. Your work will be better for it. I promise.
Can you relate? Does saying yes to new opportunities and experiences inspire your work? Share your stories in the comments.
Some of the above content came from a previous #GetGutsy e-newsletter. Want more gutsy content delivered straight to your inbox twice a month? Be sure to sign up for my FREE #Get Gutsy e-newsletter filled with inspiration, ideas and action items to get out of your comfort zone.