Start your week right! Every Sunday I post my favorite links from around the web and share my goals for the upcoming week.
Links
On Blogging:
Top 24 Blog Lessons Learned In Two Years: If you click on just one post this week, read this one. There are an incredible amount of smart nuggets of information (and links to additional resources) for bloggers of all experience levels in Natalie Sisson's 24 blog lessons learned in two years.
Future Buzz 10 Most Popular Posts of 2012: Media, marketing and PR blog The Future Buzz shares their top 10 most popular posts of the year. Want to find out YOUR most popular posts of the year? Author Adam Singer shares a link to a Google Analytic custom report that outlines your top 10. Pretty cool! I was kind of surprised by what appeared in my top 10.
Things To Do Before Your Big Guest Post Gets Published: One of my blogging goals for 2013 is to guest blog more as a way to find new readers and further develop my blog, so this post by Kristi Hines for The Daily Egg came in handy this week.
On PR:
Internship Experiences: My sister Jamie Lawlor writes about what she's learning at her PR "winternship" at the National Constitution Center here in Philadelphia.
On Life Lessons:
Just Say Thanks: Matt Cheuvront, the awesome blogger behind the inspirational Life Without Pants, encourages readers to spend the last few days of the year saying thank you to those who made an impact on your life this year. What a fantastic idea!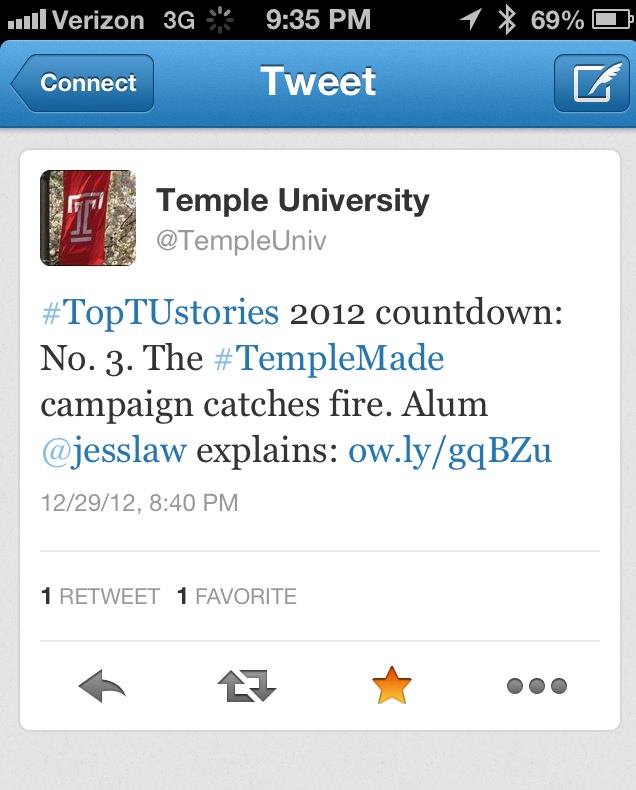 On Something Really Cool That Happened This Week:
Last night, I checked Twitter and saw the following tweet from my alma mater, Temple University. All week, they have been counting down the top 10 Temple stories of the year and I was honored to learn that they'd included my blog post about the #TempleMade campaign as their #3 story! Thank you!
Goals
Stay tuned later this week for a full post about my 2013 goals, but in the meantime, here are a few of my short-term goals for this week:
Organize my personal email inbox. I've definitely enjoyed the past few weeks of holiday fun and relaxation, but now it's time to catch up on freelance articles, PPRA event planning and blogging.
Social media detox. The beginning of a New Year is a great time to catch up on all of my social media sites and clean out my Google Reader to add new blogs and new people to follow. A fresh digital start for the New Year!

Get back into strength training at the gym. I've been doing a pretty good job keeping up with cardio, but I've definitely neglected strength. I learned of an amazing deal at my gym for five personal training sessions, so my first session is this week, and I'm hoping I'll learn some new exercises that I can incorporate into my routine.
Have any links or goals you'd like to share? Leave them in the comments!