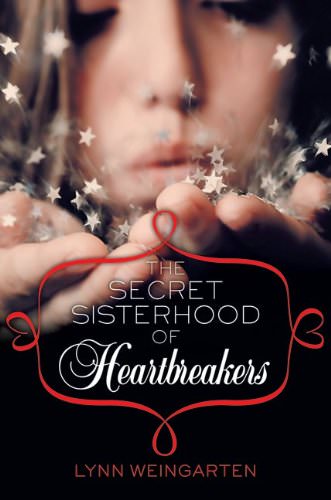 The Secret Sisterhood of Heartbreakers
Author: Lynn Weingarten
Goodreads| Amazon| Author Website
Goodreads Summary:
When her boyfriend breaks up with her on the first day of sophomore year, Lucy has no idea how she's going to make it through homeroom, let alone the rest of her life. Enter three stunning girls with a magical offer Lucy can't refuse. All she has to do is get a guy to fall in love with her in the next seven days, and then…break his heart and collect one of his brokenhearted tears. As the girls teach Lucy how to hook a guy (with the help of a little magic), she quickly discovers how far she is willing to go—and who she is willing to cross—to get what she wants.
What I Thought:
After featuring this book in a Waiting On Wednesday post a few months back, I was super excited when author Lynn Weingarten reached out to me and asked if I would like to review a copy of THE SECRET SISTERHOOD OF HEARTBREAKERS. This book initially appealed to me because it sort of reminded me of my all-time favorite TV show Sabrina The Teenage Witch. I'm not normally a paranormal book fan, but the idea of having magical powers combined with the whole heartbreaker plot totally captured me.
While I had really high hopes for this book, it unfortunately took me awhile to get through. I was in a little bit of a reading slump throughout December, when I read this book, and while I wanted to love this book, it did take me some time to complete.
Normally, I'm a big fan of books with several characters, but for some reason, the characters in this book all blended together to me. Olivia, Liza and Gil, the three heartbreakers who approach Lucy with magic powers, all seemed the same to me. I never really felt like I got to know them individually, and therefore, I really didn't feel like I cared about them. There were also a few male characters throughout the book, but again, I didn't feel like I got to know them or care about them.
Despite not completely falling head over heels for this book, I really enjoyed Lucy as a main character and loved watching her grow and mature throughout the book. In the beginning of the book, she was reeling from an unexpected breakup, and let's face it: we've all been there. I could relate to many of Lucy's feelings and there were a few bits of dialogue that really stuck out to me regarding her thoughts about being dumped. After reading a few other reviews of this book, it seemed like other readers had a problem with Lucy and thought she was whiny and way too dependent on her ex-boyfriend, but try to put yourself in her shoes and remember what it was like to be in high school and completely mad for a guy who you thought could do no wrong. Of course, as adults, we can look at Lucy and think she's acting pathetic and crazy, but when you really put yourself in her shoes, it was really easy for me to understand where she was coming from.
Despite loving or hating Lucy, it's difficult to deny the fact that her transformation from the beginning of the story to the end is pretty remarkable. We see her regain her confidence and really learn to love herself. I love books where the main character truly transforms, and this book was no exception.
My favorite part of this book was the takeaway message: be confident and love yourself. Ultimately, even though Lucy had a little bit of magic, she discovered her confidence and really owned who she was. Teenagers and adults alike will relate to this story and learn an important lesson about respect, love and being proud of who you are.
3/5
Review copy provided by author.