Today, I'm participating in Waiting on Wednesday, a weekly event hosted by Jill at Breaking The Spine. This event highlights the upcoming releases that we are eagerly awaiting!
Today, I am waiting for…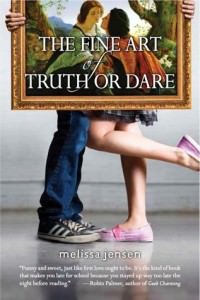 The Fine Art of Truth or Dare by Melissa Jensen (February 16, 2012 by Speak)
Besides the fun cover and creative title, one of the first things that caught my eye about this book was the blurb on the Goodreads page:
Pretty in Pink meets Anna and the French Kiss in this charming romantic comedy
Um, YES PLEASE! I'm in love.
Check out this Goodreads summary:
Ella is nearly invisible at the Willing School, and that's just fine by her. She's got her friends – the fabulous Frankie and their sweet cohort Sadie. She's got her art – and her idol, the unappreciated 19th-century painter Edward Willing. Still, it's hard being a nobody and having a crush on the biggest somebody in the school: Alex Bainbridge. Especially when he is your French tutor, and lessons have started becoming, well, certainly more interesting than French ever has been before. But can the invisible girl actually end up with a happily ever after with the golden boy, when no one even knows they're dating? And is Ella going to dare to be that girl?
I LOVE the entire concept of this book. I love that it makes the often used plot of nobody girl falls for popular guy more unique by adding the love for art and French lessons angle. Much more interesting! I have seriously high hopes for this one…February isn't too far off at this point, right?
What are you anxiously waiting for this Wednesday?